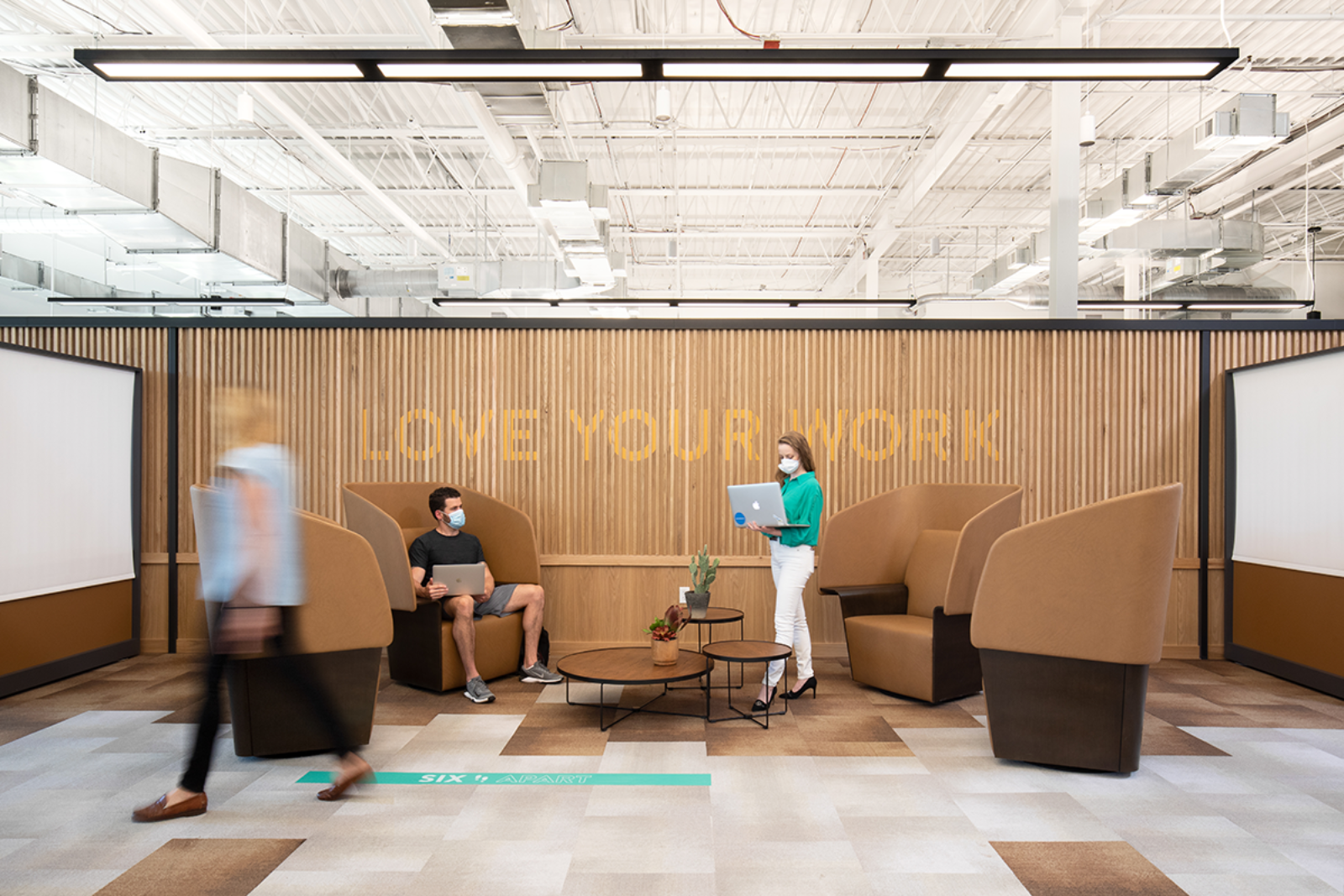 Redesigning Coworking for the Age of Social Distancing
How Analogue Studio Helped Workbar Adapt Their Business for a New Era
Analogue Studio is defined not only by the projects we deliver, but by the relationships we build. Never has this been more clear. At the outset of the COVID-19 pandemic, our client, Workbar, turned to us for guidance. They needed to pivot their business model quickly and entrusted us to help envision how to implement this change across their entire brand in their spaces, website and marketing. As a partner for over eight years and dozens of projects, they trusted our deep understanding of their business and culture to advise them during this critical time.
Our unique interdisciplinary process allowed us to look across all aspects of Workbar. The result was a multifaceted approach focusing on shifting member habits, modifying physical infrastructure, and updating messaging to reflect Workbar's long standing commitment to the wellbeing of members. This design strategy integrates emerging best practices and regulations with their mission and core values. We didn't want a "one size fits all" solution. We wanted Workbar to still feel like Workbar. We wanted their members to continue to experience a sense of community, in a now socially distanced world.
Analogue Studio worked closely with Workbar leadership to reimagine the website landing page to underline Workbar's dedication to wellbeing and community while also reflecting a new aesthetic direction for the brand. We redesigned this first stop for current and prospective members to clearly and transparently educate visitors about the new safety measures. Our goal for this new landing page was that it be a source of information and peace of mind.
In addition to messaging through the website, this peace of mind is communicated through the use of clever environmental graphics that resonate with existing messaging and graphics. Across all 11 locations, we designed custom furniture and accessories, and re-designed layouts to comply with new regulations, visually demonstrating Workbar's commitment to keeping physical distance easy. Behind the scenes, we engineered strategic HVAC filtration, purification and ventilation upgrades tailored to each location's unique systems and operations. Our evaluation even included looking at the science behind anti-microbial materials for high-touch areas, and we concluded that behavior modification through signage would provide the most value.
Analogue Studio recognizes that our ability to respond quickly, provide valuable insight, and design powerful solutions for Workbar is rooted as much in our diverse skill set as it is in our longstanding relationship and understanding of their business. We respect Workbar's unwavering commitment to provide a safe, productive, community-centric alternative to the commercial or home office. We strove to ensure our design communicates this commitment, demonstrating to Workbar's community that although everything has changed, nothing has changed.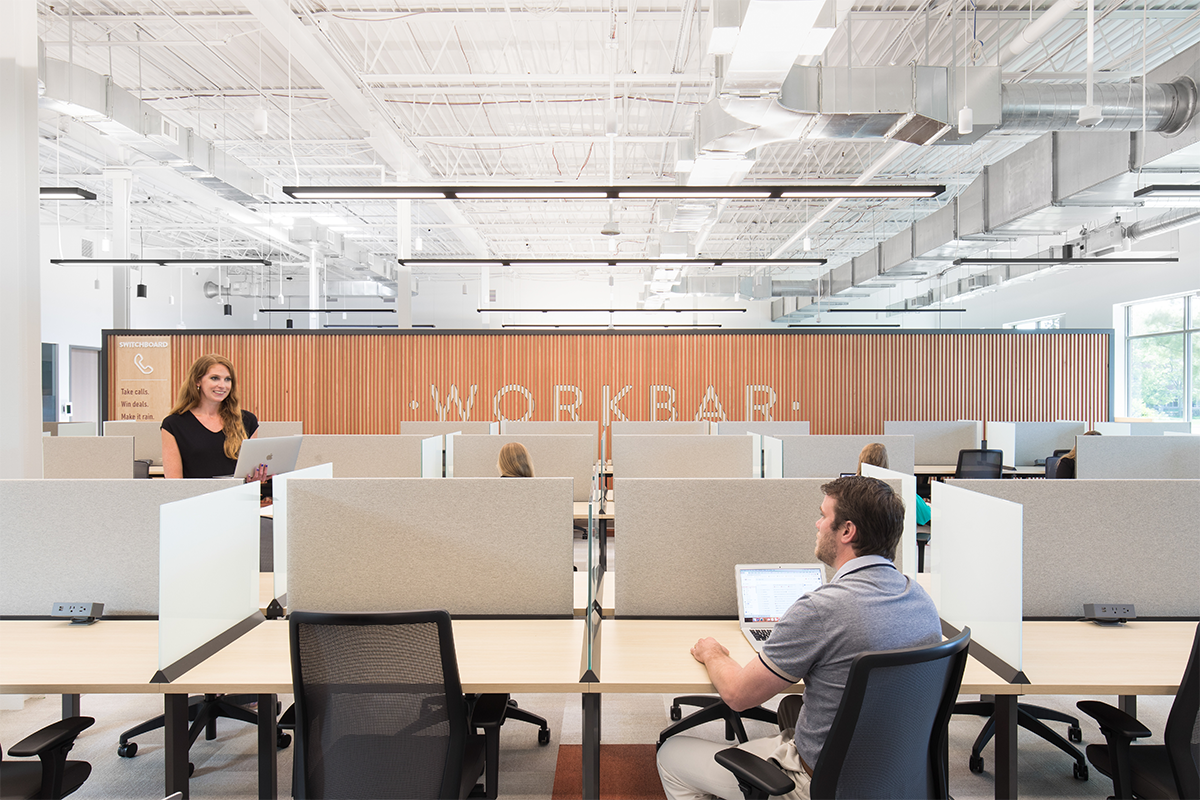 Lower Density, Same Connection
We redesigned layouts to subtly reduce capacity at each location. Custom furniture and accessories allow for the community to connect.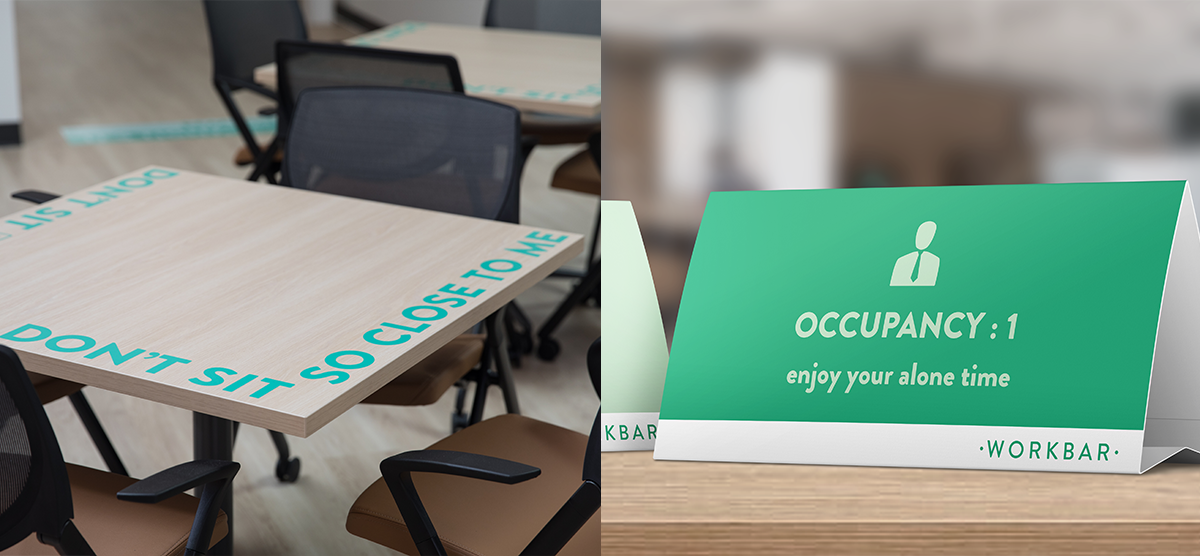 Promoting Safe Social Distancing
Custom designed table tents, cleverly worded table graphics and other visuals throughout the space remind you to keep your distance while also reinforcing community norms.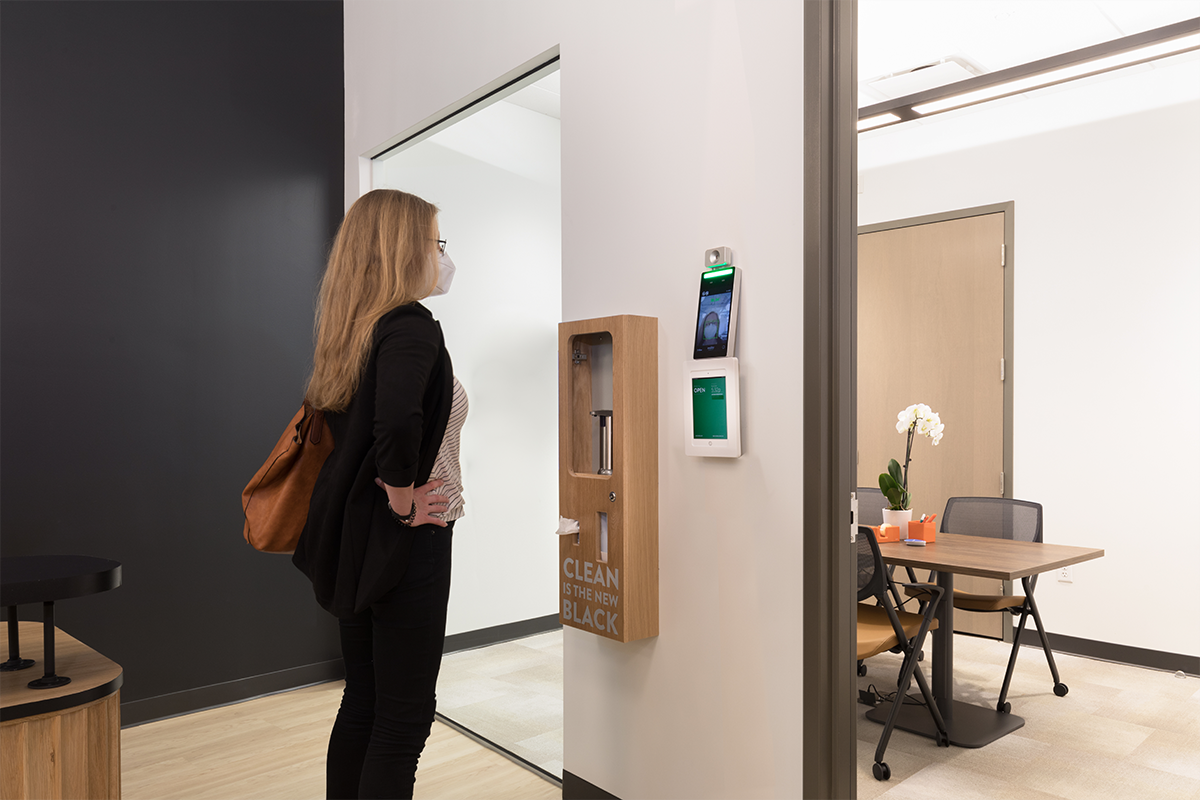 Custom Wellness Stations
We designed branded wellness stations which include thermal scanners, masks, disinfecting wipes and hand sanitizer. The stations were strategically placed after we identified high traffic areas as well as entry and exit points.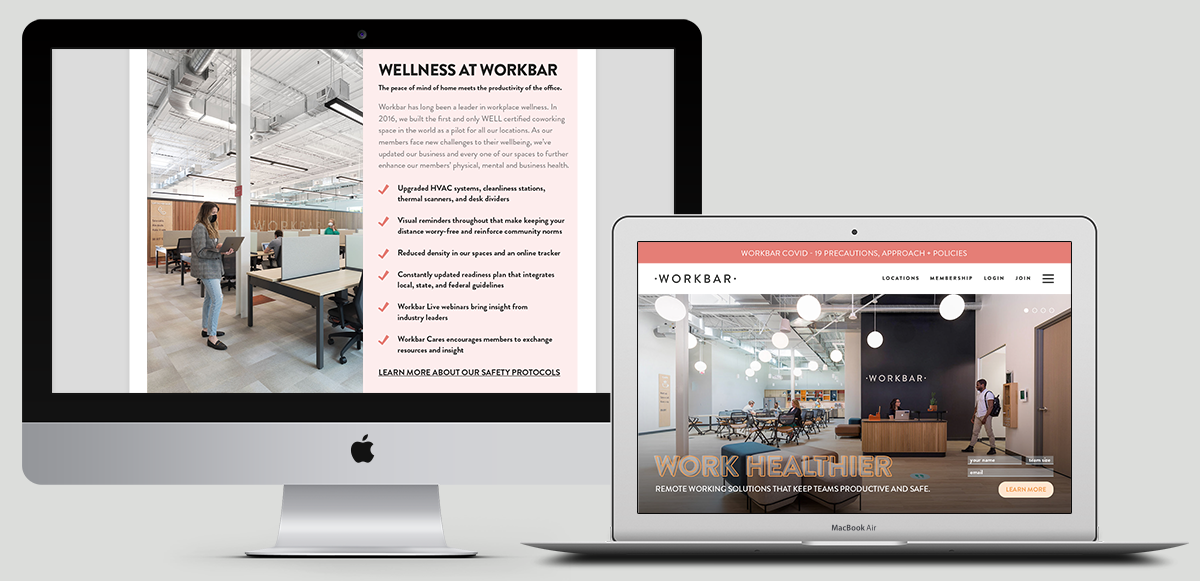 A New Digital Home
Workbar's new homepage assures prospective and current members of Workbar's unwavering commitment to provide a safe, productive, community-centric alternative to the commercial or home office.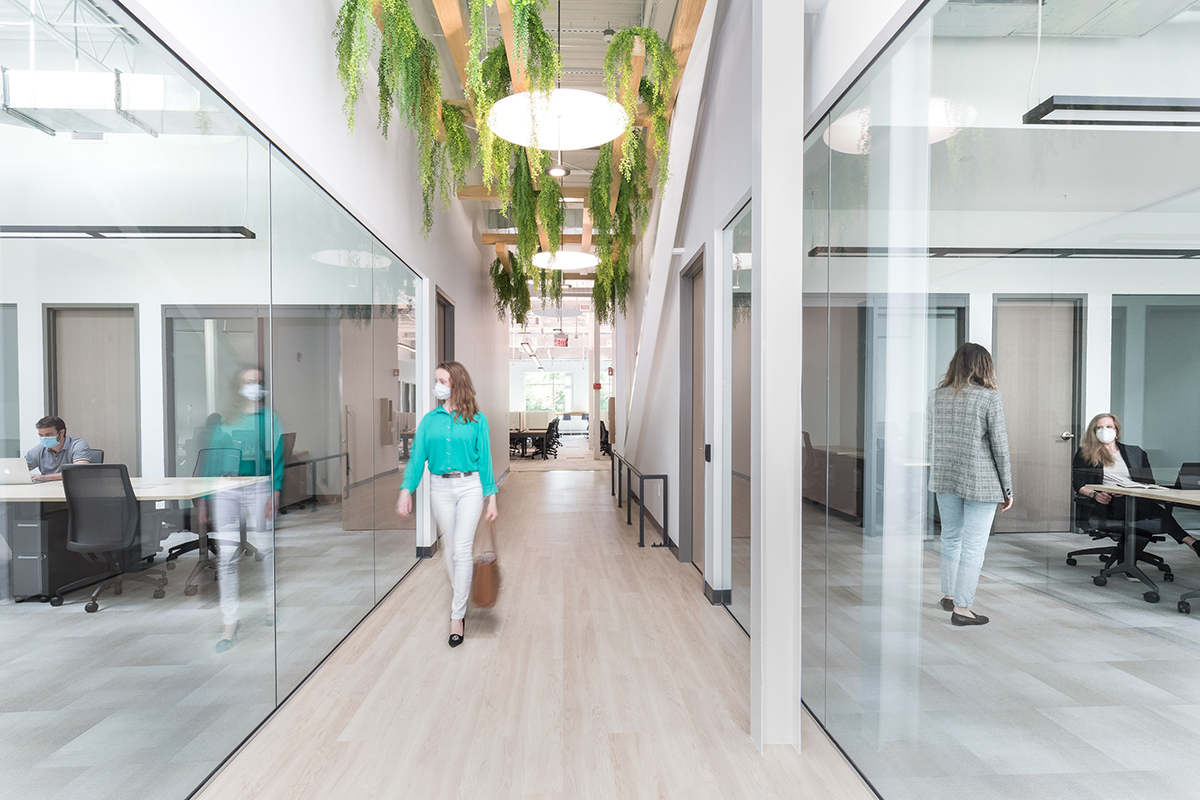 A Leader in Workplace Wellness
In 2017, we helped Workbar Back Bay become the first coworking space in the world to achieve WELL certification. We've since used that project as a template for all future locations, placing Workbar in an excellent position to conform to new regulations for workplace safety.
Read more about our work with Workbar: